the single point of contact for hundreds of companies since 1998
De-Met Manufacturing Services
Here at De-Met we don't simply provide specialised services such as laser cutting, welding, press braking and assembly, we combine them all to provide end-to-end in-house sheet metal manufacturing solutions. We've been doing this successfully since 1998 with clients from every sector come back to us time and time again because they know that we can manufacture exactly what they need.
Manufacturing in all shapes and sizes
We can make that promise because we enter into a genuine partnership with each and every client. We operate as an extension of their own team, gaining a full understanding of their requirements and then using all of our experience to deliver exactly what is needed. Crucially, we combine that experience with two vitally important things. The first is on-going investment in state of the art equipment.
This means that when we provide laser cutting, press braking or welding services we do so using the very best and latest equipment available. The second feature which sets us apart from the competition is that this investment in equipment is matched by our investment in the people working at De-Met. Our staff are highly trained and hugely experienced, and whether they are designers, engineers or technicians we go out of our way to ensure that they always stay on top of the latest techniques in the field of sheet metal manufacture.
Our versatility means that we're equally at home manufacturing small-scale components such as brackets and spacers as we are developing complex projects or highly intricate one-off prototypes. We can take any project forward from the earliest possible stage, consulting with the client on an initial brief before turning that brief into detailed CAD drawings to be utilised in our manufacturing facility. Equipment such as 170 tonne Press Brake machines enable us to work on large or small scale items made from mild steel, stainless steel or aluminium, and any number of techniques can be combined to produce items manufactured to the strictest tolerances and in line with short lead times.
Our experience across the range of manufacturing challenges and within multiple sectors means that we can also advise each client as to the most efficient and affordable means of manufacturing the item or items they need. If a client comes to us with a fully realised drawing we can either enter the data into our CNC controlled machines and deliver precision results, or suggest changes that will save the client time and money in the longer run.
Hexagon Workplan MRP System
De-Met has invested in the latest technology with the Hexagon Workplan MRP system.
Workplan enables De-met to follow a job from initial enquiry through to delivery to the customer. From the quoting stage, the software calculates material requirements and manufacturing time, using the time and materials at the quotation stage the software can plan these times into the manufacturing schedule to generate a production plan.
Utilising the barcode scanning system, we can follow the job in real-time from the drawing department through the manufacturing process.
Materials are allocated to each job helping to control stock levels and traceability of materials purchased against all orders.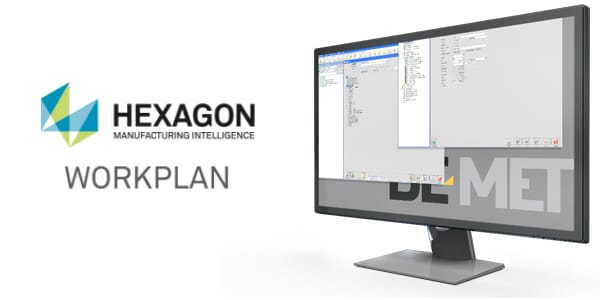 Our Experts can guide you...
If needed we can provide a powder coating finish to any items we manufacture and the fact that this is done in-house, just like everything else, means that it will happen in line with the De-Met ethos of value, excellence and quality.
If you'd like to find out more about what De-Met could offer you then get in touch with us today. Our team of experts will be happy to explain the details of our individual services and the end-to-end service we can provide if needed. Telephone us now on +44 (0) 1384 457959, email us at enquiries@de-met.co.uk or fill in a contact form here.